Showing 1–12 of 19 results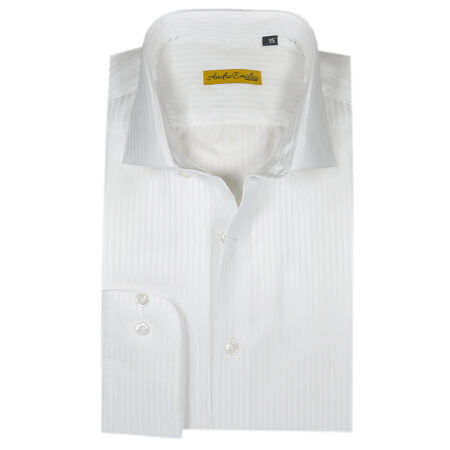 $

25
This white lining texture shirt is sharp and exquisitely crafted from the finest 100% pure cotton. Featuring a slim fit, full sleeves, wide spread collar and round cuffs, add formal cufflinks for executive look. Formal shirt is the most fitted in our range designed to create a contemporary, sleek silhouette.
---
Buy Formal Shirts for Men Online
Whenever you go to buy shirts for yourself you need to keep in mind two things for a better look and that is quality of fabric and fitting. These two are the ingredients that contribute to giving you the most stylish and sophisticated look. Due to the extensive variety of formal shirts for men are available in the shops, selecting a quality shirt is a herculean task but Andre Emilio has an excellent variety for formal shirts that are designed according to your physique and giving you the perfect look. You can see our online store for the purpose.
Innovation, modernization and rejuvenation are probably the best-described words for Andre Emilio. Two qualities of the formal shirts should be given utmost importance i.e. quality of fabric and fitting that are the benchmark of Andre Emilio.
We assist our clients to be the trendsetter by choosing the shirts that fit them properly. In the end, you have to decide which way of suiting is more convenient for you? If you really want exceptional dress shirts that fit on your body shape then you ought to choose ready to wear shirts.
Andre Emilio quality dress shirts for men are available at the most affordable price. We have vast variety of shirts that are Lining Textural Formal, Multicolour check shirts, ivory check shirts, striped button-down shirts, Men Shirt With Self Dotted Texture, Self Texture Formal Shirt, Lining Plain Formal Shirt, Chocolate Brown Slim Fit Shirt, Dark Green Slim Fit Shirt, Slim Fit Shirt, Indigo Slim Fit Shirt, Self Print Slim Fit Cotton Shirt etc. are available.
You want to wear a dress shirt for office going or you need a casual shirt for an informal occasion, we are the right place for you. Andre Emilio does not compromise on the quality of fabric and fitting. All you need to do is to visit our outlet or you can online book order for your desired shirts as well.
We have ready to wear shirts as well. Small, medium, standard fit large and extra-large shirts are available. You need to scroll here and choose the dress shirt for men according to your choice.
You can place your order from your home or you can visit it. You can look into our return policy as well for more details. Andre Emilio is there to assist you with buying shirts that suit yourself.